My name is Ria Pontikis.
I am a professional freelance make-up artist based in Bratislava, Slovakia.
My specialisation is in SFX make-up and prosthetics – ranging from fabrication and painting to final application. Since my childhood I have been fascinated by make-up. Later, during my studies of make-up artistry at Secondary School of Scenic Arts I started focusing on special effects and prosthetics.
Additionally I am skilled at TV &  stage make-up, hair punching, knotting, hair styling, face painting, body painting and belly painting.
I speak English. Ich spreche Deutsch.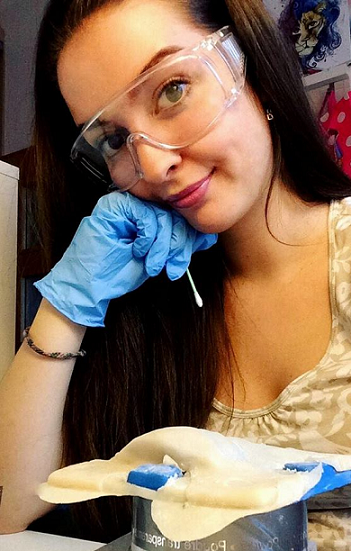 Volám sa Ria Pontikis.
Som profesionálna umelecká maskérka z Bratislavy. 
Špecializujem sa na SFX make-up a prostetické masky – od ich výroby až po finálnu aplikáciu. Už od detstva ma táto oblasť fascinovala, preto som sa rozhodla pre štúdium maskérstva na Strednej umeleckej škole scénického výtvarníctva. Práve v tomto období som sa začala zameriavať na SFX make-up a prostetiká. 
Venujem sa aj  filmovému make-upu, vizáži, hair stylingu,, maľovaniu na tvár, telo a tehotenské brušká.
Hovorím po anglicky a nemecky.
PROJECTS
♦
NEMOCNICA (The Hospital), TV series
JENNY, drama/comedy
MAGIC MOUNTAINS (NL), crimi/drama
MOJE POVSTANIE 2 (My uprising 2), military/drama
TRHLINA,  thriler/mystery
VIANOČNÉ ŽELANIE (Christmas Wish) , fairy tale
ÚNOS (Kidnapping), political thriller
INSPEKTOR MAX (Detective Max), TV series
BRITANNIA, TV series 
PRÁZDNINY (Holiday), TV series
HUSBAND JOHN AND FAMILY, drama
DON´T REPEAT
SKI WORLD CUP JASNÁ, 
GREGUŠ SPORTSWEAR
and more